Home renovations are an exciting process. They offer homeowners the opportunity to completely reinvent their spaces and customize their living arrangements to suit their needs and desires. From aesthetic adjustments to functional changes, renovations provide homeowners with a great deal of flexibility. By providing a more tranquil, stylish, and cohesive area to relax in once the final product is revealed, a well-done renovation can truly elevate a homeowner's everyday life.
When it comes to bathroom renovations, the right design scheme can create an upscale oasis that makes even the most mundane tasks, like brushing your teeth or applying facial cream, feel as though you've taken a trip to the spa. With the number of glamorous amenities and materials that can now be designed into the space, bathrooms truly have the potential to be one of the most serene spots in a home. Once you determine your personal style, watching home remodeling services and bathroom remodeling services make your vision come alive will be a magical experience.
As professionals in the Boonton real estate, Boonton Township real estate and Mountain Lakes real estate markets, Mary Menard and
The Menard Group
have seen an extensive array of bathroom design styles brought to life. Knowing all the best home remodeling services and bathroom remodeling services in the local
neighborhoods
, their team has gotten an up-close look at the hottest trends used by interior designers to turn home bathrooms into luxurious retreats.
While you gather inspiration for your next renovation, check out these five bathroom design ideas by the Menard Group for an insider look into popular styles that can totally transform your space. After using a few of these tips and tricks, your bathroom will be one of your favorite spaces in your home in no time.
The retro refuge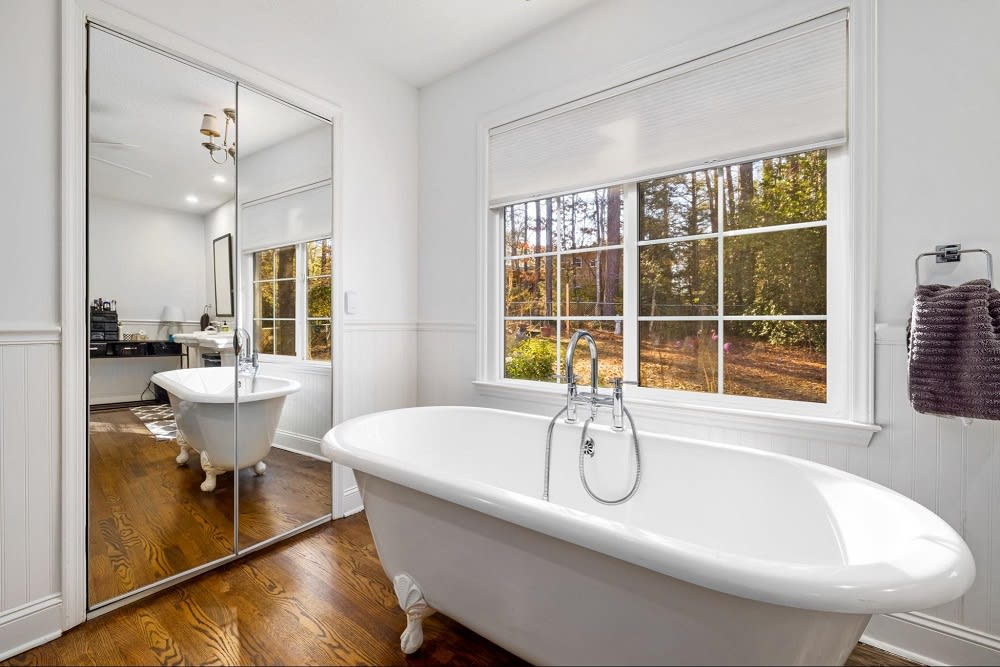 Embarking on a blast to the past by turning your bathroom into a retro refuge is an excellent way to pay tribute to your favorite era. Clawfoot tubs are all the rage these days as people across the country rediscover the understated beauty of its deeply built, freestanding design. Playing with eclectic patterns in the wallpaper is a lovely way to add flair, and pieces such as an antique armoire bring culture and history to the space. By making an ode to the past with your bathroom, you'll be sure to feel as though you've stepped into Old Hollywood as you dry off underneath your new gilded chandelier.
The nature sanctuary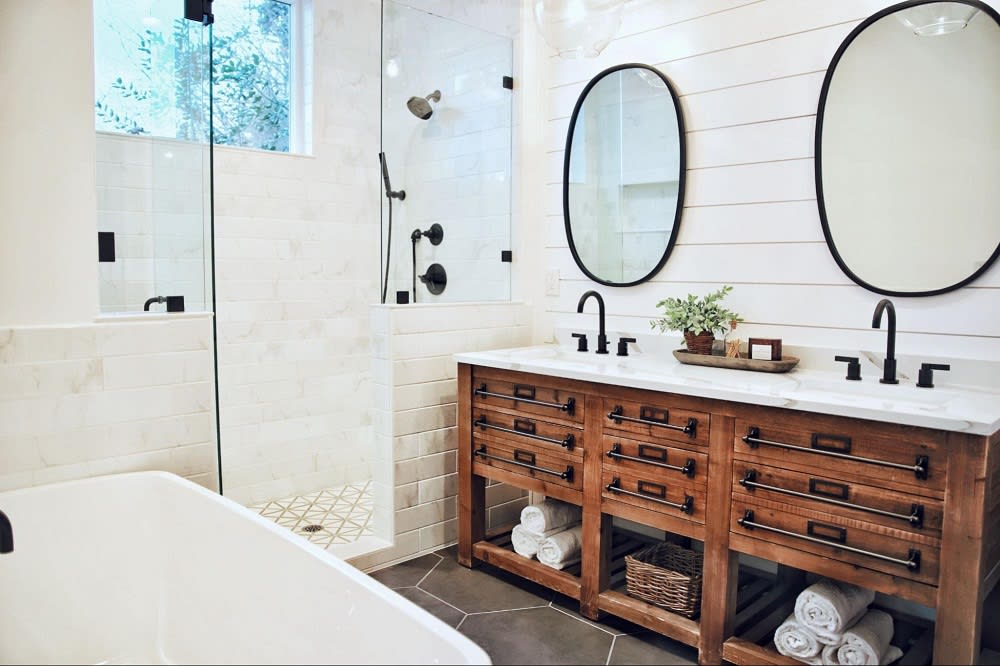 A nature sanctuary is an ideal bathroom approach for lovers of the lush outdoors. Nature has a way of creating a soothing environment, and introducing its textures into your design can lead to a calming setting. Installing a rainfall showerhead, selecting a wooden vanity, and placing stones and minerals around the room are simple yet effective strategies. Plants and decor pieces, such as indoor trees and bamboo sculptures, can also add character. If nature is what you love, bask in it in your bathroom.
The industrial den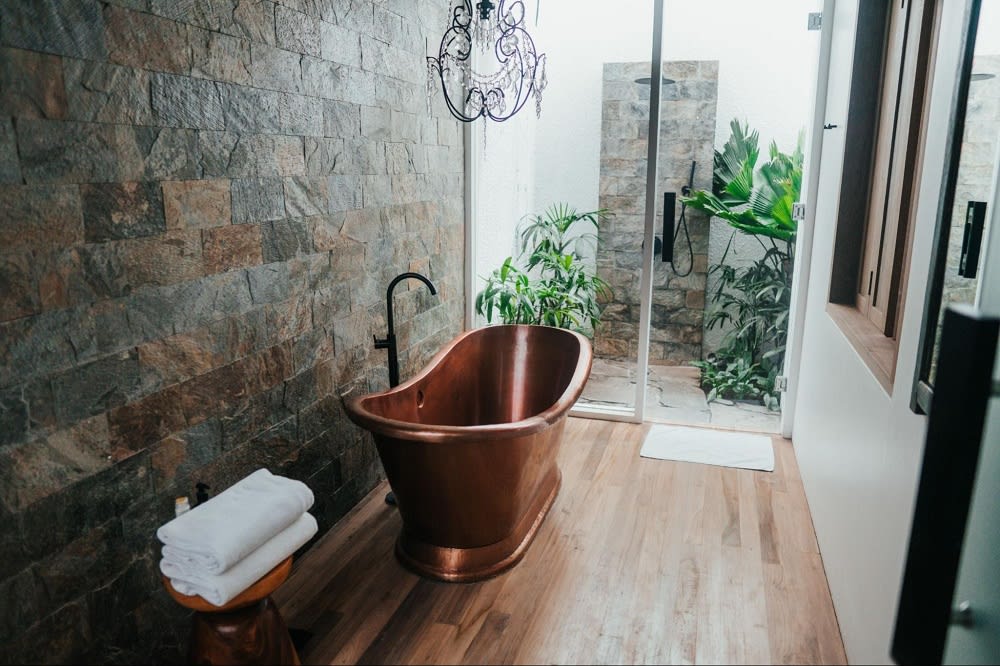 City dwellers and urban artists may feel most at home by designing their bathrooms into industrial dens. Classic subway tiles on shower walls are a go-to move for many interior designers due to their sleek appearance. Exposed pipes and brass hardware are often seen as well, typically with gold or copper fixtures that give off a look that is just as glamorous as it is urban. Using a color palette with bold contrasts is a good strategy in industrial decor schemes, as it allows for drama in an otherwise minimalist approach.
The farmhouse hideaway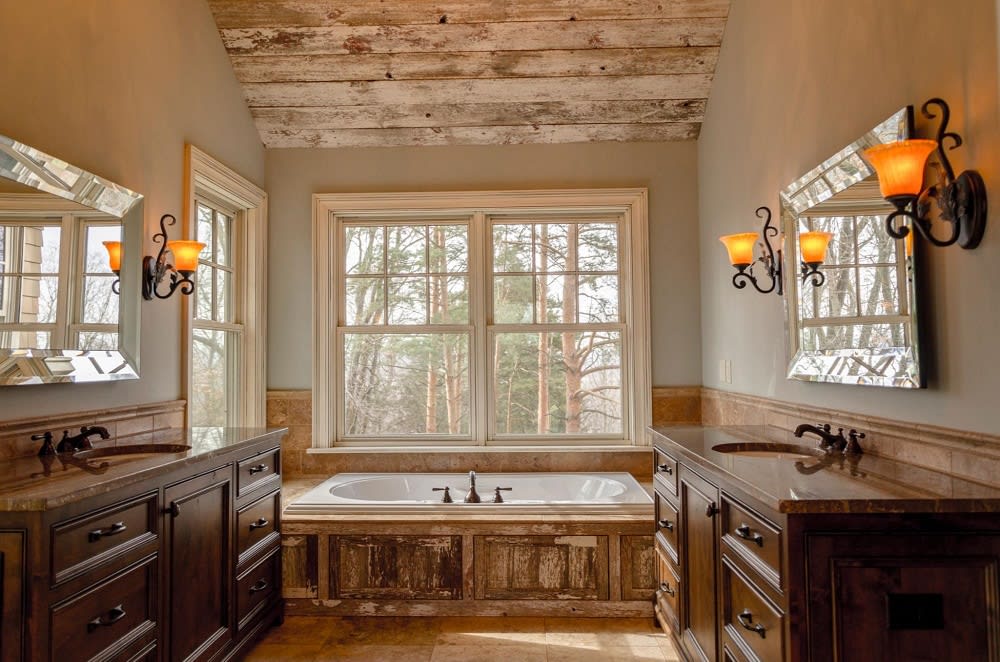 Building a farmhouse hideaway is the perfect bathroom design theme for those who love a cozy atmosphere and a rustic look. For a space reminiscent of the countryside, incorporate bright features against rustic pieces. A wall composed of white shiplap on the bottom and vintage floral wallpaper on top can establish a shabby-chic vibe, and herringbone floor patterns are a timeless element that never goes out of style. When it comes to bringing in the finishing touches, fluffy towels are a must for that homey feel.
The modern escape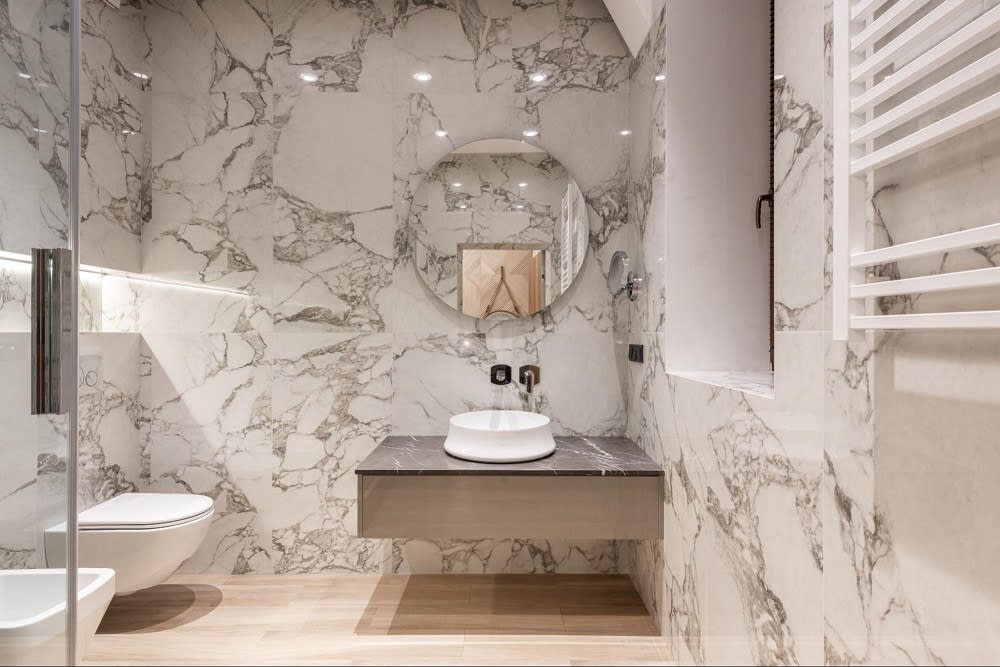 Those who appreciate innovation and admire contemporary art may enjoy their bathroom most by making it feel like a modern escape. Many high-tech elements can be brought into today's bathrooms, such as heated floors, smart toilets, and temperature-controlled showers. You can also bring in an advanced voice-activated multi-setting lighting and sound system to create an ambiance before taking a dip in your soaking tub. Modern designs are sleek and often look great in neutral color schemes, with black and white paired with marble and stone being a common approach.
Work with an expert real estate agent
When it comes to renovating your bathroom, the possibilities are endless. Think of a theme you would like the space to exhibit and curate a color palette and tile combination that match its vibe and tone. Inspiration can be found all around you, and meaningful adjustments can be made no matter what size space you're working with. Most home remodeling services and bathroom remodeling services can provide helpful insight during the design process. From giving you advice on patterns to showing you different types of hardware, the professionals at home remodeling services and bathroom remodeling services have seen an extensive array of decor styles and have insight into the best materials, layouts, and more.
With years of experience as a Boonton, Boonton Township and Mountain Lakes real estate agent in the Boonton real estate and Mountain Lakes real estate markets,
Mary Menard
at
The Menard Group
has connected many buyers and sellers with home remodeling services and bathroom remodeling services in the community. If you're looking at homes for sale in Boonton, Boonton Township, homes for sale in Mountain Lakes or are listing your property in these real estate markets and are in need of a qualified real estate agent with expertise in the local
neighborhoods
, contact The Menard Group today.